Every Year UBOS celebrates the Africa Statistics Week every November. Last year the Africa Statistics week was celebrated in the week of 18th November
HIGHLIGHTS OF THE AFRICA STATISTICS WEEK 2017 .
Uganda Bureau of Statistics (UBOS) joined other Africa National Statistical Organisations (NSOs) to celebrate the Africa Statistics Week from 13th -18th November 2018. The annual event is intended to increase statistical awareness in the respective countries. As UBOS commemorated the 2017's Africa Statistics Week, her major Objective was to further increase public visibility, awareness and appreciation of quality statistics and their contribution to the attainment of National goals and priorities.
During the celebrations week that climaxes on the 18th of November, the Bureau engages in a number of activities. This time round we broke the status quo and incorporated many other activities other than the usual. It was therefore business unusual for the statistics week 2017. To the Statisticians, this day means a lot. It's the day that we celebrate what we do, a day that we are celebrated. Generally it's a day of loving, appreciating and devising means of making what we do better. To the users of statistics, it's a day that we get to meet the producers and providers of statistics, a day to share and better understand statistics. The theme for the 2017 Africa Statistics Week was 'Better Lives with better Economic Statistics".
A number of events were organised by the Bureau throughout the week. These were: the African Commission on Agriculture Statistics (AFCAS) from 13th to 17th, the National Data Forum 14th -17th, a Media Workshop, celebration of the Geo-Information Systems Day (15th November 2017), Uganda Statistical Society Workshop and a Dinner (17th), Blood Donation as Corporate Social Responsibility (13th -17th). The whole week's events were crowned by the Bureau's participation in the MTN marathon where the Bureau paid for her staff to be part of the cause in fighting cancer and maternal death.
The events were spearheaded by a joint team led by UBOS staff, academic institutions and Development Partners such as UNFPA, USAID, UNWOMEN, and UNDP.
African Commission on Agriculture Statistics (AFCAS)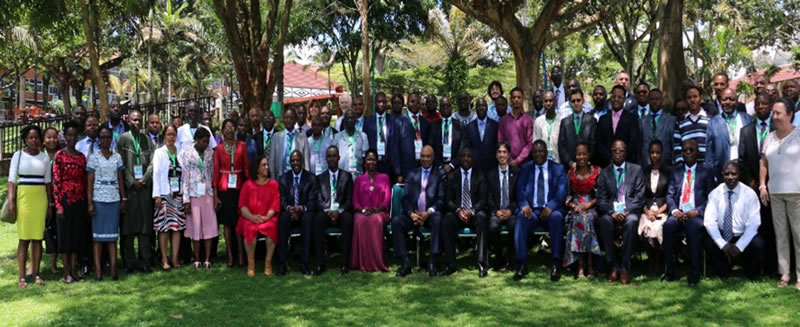 Seated Centre in Purple is Ms.Imelda Atai Musana DED /SPD and Mr. Patrick Okello Director Agricultural and Environment Statistics with delegates for the African
The African Commission on Agricultural Statistics (AFCAS) which is held every two years was part of the ASW celebrations. The 25th session of AFCAS was held in Entebbe, Uganda from 13 to 17 November 2017. It brought together Senior Statistics officials from FAO member countries in the African continent. These members are responsible for the development of agricultural statistics in their respective countries. They reviewed and exchanged ideas on the state of food and agricultural statistics in the continent and advised member countries on the development of their agricultural statistical systems within FAO's programme of Work and Budget for Africa. The theme of AFCAS 2017 was "Agricultural statistics in the Sustainable Development Goal era: Challenges and opportunities." Read More